Veterinarians
Dr. Kate Fridolph

DVM, Owner
Dr. Kate Fridolph graduated from the University of Illinois in 2012 and has been practicing Vet medicine for 10 years. Dr. Kate's interest in Vet medicine came from caring for her own childhood animals, observing her family Vet and from shadowing at the local Vet office in high school. Dr. Kate was formerly a co-owner of Southern Hills Veterinary Services but after the practice was split, in late 2021, she purchased and became co-owner of Oak Valley Animal Health, along with Dr. Aimee. Dr. Kate lives with her husband, Tim, thier twins, and bundle of pets. In her spare time, she enjoys horseback riding, reading cooking/baking & spending time with her family.
Dr. Aimee Anderson

DVM, Owner
Dr. Krista Davies

DVM, Associate
Dr. Davies has always had a passion for animals. It was her dream, from a very young age, to become a Veterinarian. Dr. Davies has been practicing Veterinarian medicine for 26 years. Whether she is working with livestock or a family pet, she loves being a part of her client's family! In her spare time, she enjoys DIY projects, gardening and most of all, spending time with her family. Oak Valley is very lucky to have Dr. Davies experience and expertise as a part of our team!
Veterinarian Support
Jen Bush

Registered Veterinary Technician
Jen is a Registered Veterinary Technician, with her degree coming from Globe University in Sioux Falls, SD with an Associates of Veterinary Technology in 2014. After graduation she moved to Corning, IA working for Southern Hill Veterinary Services for two years. She then spent 5 years at VCA Emergency & Referral Hospital in Omaha before joining our team.
Jen is trained in all aspects of veterinary nursing, emergency & critical care. Her professional interests include enhancing the animal-human bond through education,and teaching the next generation of technicians.
Jen lives with her two dogs, Cheyene & Arya as well as her bearded dragon, Saphira. In her free time Jen enjoys gardening & watching movies
Malorie Winther

Veterinary Assistant
Malorie has worked at our Villisca clinic since February of 2021. Not only does she hold down the fort on the off days there's no Dr. there, but she also takes on the Assistant duties when Dr. Aimee is in the house! A native of Villisca, Malorie resides with her husband Quentin, and two dogs, Bo & Marley. When not at work, Maloire enjoys gardening, playing with the dogs, and spending time outdoors. Malorie's favorite thing about working at Oak Valley is helping all the animals and learning new things everyday. "Animals have always been a big part of my life. I feel truly blessed to be a part of such a great work family, and doing what I love." We love having you here too Mal!
Alix Kammerer

Veterinary Assistant
Jennifer Jones

Veterinary Assistant
Cody Bourrette

Veterinary Assistant
Cody began working at Oak Valley in February of 2022, but it did not take him find his niche. Even though Cody is primarily a large animal asisstant, you can still see him out of his natural habitat holding an dog for a vaccination, or even covering the front desk. Cody and his wife Megan have two children, Sage & Reata, with a third on the way! They live outside of Villisca with their two dogs, Dixie & Fly, along with a plethora of livestock. In his "spare time", Cody enjoys time with his family, helping with his wife's photography business, and spends time in the great outdoors - hunting, fishing, and trapping.
Administration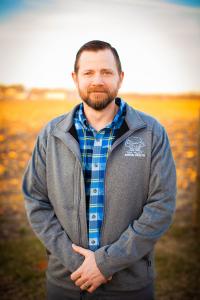 Tim Fridolph

Clinic Operations Director
Tim has been with Oak Valley since its formation, and brought to the practice his 20+ years of business management experience. A Red Oak native, Tim lives with his wife, Dr. Kate, their twin children, and a small handful of pets. In his free time, he enjoys the outdoors, boardgames & movies with his family, as well as volunteering in his community.